Hello Saturday.
January 22 2022
A $3.4 billion construction project to replace Terminal 1 has really taken off at the San Diego International Airport. This week, travelers are seeing impacts to parking at SAN, so we thought it'd be a good time to check in on the progress.

Here's where the "New T1" is at — and where it's headed.
The vision:
The large-scale project broke ground in late 2021 and will be completed in three phases, through 2028. The original Terminal 1 opened in 1967 — a time when far fewer people were traveling in and out of San Diego.

The San Diego County Regional Airport Authority said today, SAN is "the busiest single-runway commercial airport in the nation." The half-mile long New T1 will improve transportation, mobility, and access to SAN for locals + visitors.
Some standout features:
30 new gates, bringing the total to 62 across both terminals.
New Parking Plaza

for

5,000+

cars will

replace Terminal 1 Parking Lot.
Improved entrance

will give travelers a

quicker, more direct route to SAN

+ help drivers

bypass the local traffic

on Harbor Drive.

New, post-security outdoor seating area

with a

spectacular view

of downtown + the San Diego Bay (

check it out in this video

, at

1:54 + 3:57

)

Two new pedestrian bridges

and access paths for

pedestrians + bicyclists

.

New ticketing lobby with suspended artworks

+ new art throughout

.

A children's play area

.

New food + retail

, and an

open seating area

(

much like Terminal 2's Sunset Cove

) where travelers can

relax and eat

before flying.

A performing arts stage

for pre-flight entertainment.

Two new airport lounges, each with outdoor decks

.

Upgrades to SAN's baggage claim

+ handling systems for

faster service

.
The Airport Authority said the bright + airy design of the New T1 will "bring San Diego inside the terminal."


"We're not just building a new terminal — we're transforming the air travel gateway to San Diego," the agency added.
Thursday
Shen Yun | Thurs., Jan. 13-Mon., Jan. 17 | Times vary | California Center for the Arts, Escondido | $80+ | Enjoy this classical Chinese dance performance set to multimedia effects + original orchestral works. 🎵
Trey Kennedy

| Thurs., Jan. 13 | 7 p.m. | Balboa Theatre | $45+ | The comedian known for his Vine + Instagram content performs on the "Are You for Real?" Tour.

🎤
Friday
San Diego Gulls vs. Abbotsford Canucks | Fri., Jan. 14 | 7 p.m. | Pechanga Arena | $19+ | Cheer for the Gulls on Third Jersey Night at this home game while also enjoying $2 Bud Lights. 🏒
Big Salsa Festival: San Diego

| Fri., Jan. 14-Mon., Jan. 17 | Times vary | Marriott Mission Valley | $50-$200 | This 4-day fest is all about Latin dance, and each day is packed with classes, live performances + dance parties. 🎶
Saturday
Fortune Feimster | Sat., Jan. 15 | 7 p.m. + 9:30 p.m. | Balboa Theatre | $31+ | The stand-up comedian, writer, host, and actor brings her "2 Sweet 2 Salty" tour to our city for two performances. 🎤
We have a monthly guide filled with events + activities you can plan for in advance. Click the button below to bookmark ideas for upcoming date nights, family outings, and time with friends.
Note: COVID-19 protocols are changing rapidly to curb the spread of the Omicron variant in San Diego. Please make sure to check event listing pages + venue websites for the most up-to-date information.
Weather
75º | Mostly cloudy | 0% chance of rain
The 72-degree high

on Mon., Jan. 10, was

the warmest

it has been in San Diego in

41 days

. The

National Weather Service

said that was

the longest such stretch

with temps

less than 70

since

a 46-day period in 1999

— and before that, in

1970 + 1967

. 🌤️ (

National Weather Service San Diego

)
Sunrise + Sunset
Rise: 6:52 a.m.
Set:

5:03 p.m.
Tide
Low: 12:58 p.m. + 11:40 p.m.
High:

5:32 a.m. + 7:22 p.m.
Development
On Mon., Jan. 10, the county began construction on an affordable housing community designed for low income adults + seniors experiencing homelessness and mental illness. The 50-unit apartment complex — Valley Senior Village — is located in downtown Escondido and is expected to be completed by summer 2023.

Opening
Sushi 2 — downtown San Diego's longtime restaurant — is moving to North Park. The eatery will take over the space on El Cajon Boulevard that formerly housed another beloved local staple: Tiger! Tiger! Tavern, which shuttered due to pandemic challenges in 2020. 🍣 (Eater San Diego)
Biz
San Diego-based TuSimple has become the world's first company to successfully complete a driver-free, autonomous semi-truck test on public roads. The test included an 80-mile route between two cities in Arizona + no human remote control was used. The test is a huge step in scaling autonomous trucking operations. 🚛 (San Diego Business Journal)
Feel Good
A former volunteer music teacher is striking a chord with her ongoing mission to donate instruments to schools. La Jolla resident Ann Marie Haney oversees a project to collect unused instruments + loan them to music teachers throughout San Diego Unified School District — from cellos and basses, to trumpets and trombones. 🎺 (La Jolla Light)
Legacy
TV veteran Dick Carson (yes, Johnny's brother) died at the age of 92 on Sun., Dec. 19. He got his start in television at KOGO-TV in San Diego and later became known for his director positions on "The Tonight Show" + "Wheel of Fortune." 📺 (Times of San Diego)

Correction
In yesterday's newsletter, we said that as of Sun., Jan. 9, San Diego County public health officials had reported 5,922 new COVID-19 cases. That figure was from Thurs., Jan. 6, not Sun., Jan. 9. The county reported 12,563 new cases on Sun., Jan. 9. The updated local COVID-19 dashboard is here. We apologize for the error.

*This paid content, brought to you by our advertising partners, helps make this newsletter free.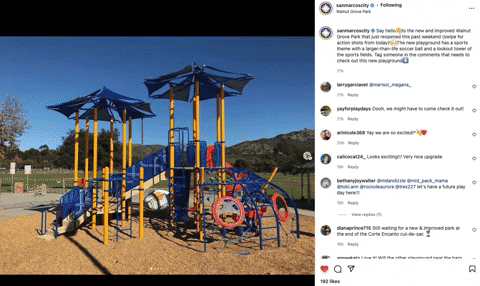 Walnut Grove Park in San Marcos has gotten a major upgrade. The North County park reopened just a few days ago with a new, sports-themed playground complete with a lookout tower.

Visit:
📍 1950 Sycamore Dr., San Marcos (north of Twin Oaks Golf Course)

Did you know? San Marcos is home to 290 acres of park land, including 24 community parks, 13 neighborhood parks, three recreation centers + a 70-mile trail network. It's no wonder some locals fondly refer to the community as "San Parkos." Check out the parks + rec options here.
#DYK that your photos and quotes could be featured in our newsletter?
Just use #SDtoday on social media.
Points Balance
zero? That can't be right 
EARN FREE GEAR
Keep earning and learn other ways to earn points here. Then redeem them for exclusive San Diego swag at The 6AM Shop.
Share now with your friends, family, and all San Diego lovers! Just click the buttons below:
Here is the unique referral link for you:  ⤵️
Copy, paste, share + save this in a safe spot…or check here each morning anytime you need it.
Editor's pick: Hello, San Diego. Monica here. Our weather has been absolutely perfect lately, so I've been spending lots of time hiking with my little ones, enjoying the peace that comes from being outdoors. The Guy Fleming Trail at Torrey Pines is one of our favorites: a short loop with spectacular views of the ocean + plenty of benches to take a break and soak it all in. 

Missed yesterday's newsletter? COVID-19 Update in San Diego
Did a friend forward this free newletter to you?