Hello Thursday.
January 20 2022
Take a look around — you're bound to see some fascinating buildings in San Diego. Our city's architecture draws inspiration from various geographic regions + time periods, but Victorian style tends to stand out.

This style is common with buildings erected in the late 1800s (during Queen Victoria's reign), with one of San Diego's most iconic examples being 1888's Hotel del Coronado.
What makes a Victorian, "Victorian?"
Designers gravitated toward this architectural style because it could be assembled quickly + decorated to help buildings stand out. It doesn't take an architect to spot a Victorian — here are a few features to look out for:
Steep-pitched roofs

Walls with varying colors + textures

Asymmetry, often due to a porch

Decorative exteriors including spindles + banisters
Why are they so prevalent in San Diego?
In the late 1800s, Alonzo E. Horton redesigned the city layout, which prompted new residents + new homes. At the time, Victorian architecture was in style across the globe, and new San Diegans wanted fashionable houses. Now, Victorian homes can be seen as relics of early population growth in San Diego. While the city ended the 19th century with ~20,000 residents, it grew much faster in the 20th century, and Victorian designs fell out of fashion. By the time World War II began, only 15% of SD homes incorporated the style.
Where can we find them?
Victorian architecture is scattered throughout the city, and many notable locations incorporate designs (The Del isn't the only hotel). But, some neighborhoods see more Victorian influence than others. Heritage Park — a small neighborhood by Old Town — is noted for having many homes in this style. Bankers Hill, Coronado, Golden Hills + National City are also known for their prominent Victorian architecture.
 In fact, if a San Diego landmark is older than 100 years — it's probably either Victorian itself, or has some close neighbors.
Share some history with your BFFs, your Victorian neighbors, and anyone else 
who loves learning about our city.
Today
Thai Cooking | Mon., Jan. 10 | 7 p.m. | Sur La Table in Fashion Valley | $79 | Learn to make lighter Thai dishes — fresh rolls with shrimp + pumpkin curry soup — and proper cooking techniques. 🍛
Jack Harlow | Mon., Jan. 10-Thurs. | 7 p.m. | $110+ | North Park Observatory | Join the rising rapper for the Crème de la Crème California Tour with The Homies. 🎤
Tuesday
San Diego Air & Space Museum | Tues., Jan 11. | 10 a.m.-4:30 p.m. | Balboa Park | Free | Get ready for blast off and learn about space travel — free for San Diego residents today (excludes special exhibits). 🚀
Authors Discussion: "The Horsewoman" | Tues., Jan. 11 | 4 p.m. | virtual | Free | Renowned authors James Patterson + Mike Lupica visit Warwicks's in La Jolla to talk about their new book. 📖 
Thursday
Shen Yun | Thurs., Jan. 13-Mon., Jan. 17 | Times vary | California Center for the Arts, Escondido | $80+ | Enjoy this classical Chinese dance performance set to multimedia effects + original orchestral works. 🎵
We have a monthly guide filled with events + activities you can plan for in advance. Click the button below to bookmark ideas for upcoming date nights, family outings, and time with friends.
Note: COVID-19 protocols are changing rapidly to curb the spread of the Omicron variant in San Diego. Please make sure to check event listing pages + venue websites for the most up-to-date information.
Weather
64º | Mostly cloudy | 17% chance of rain
All of that rain has helped us out. After a rainy December, drought conditions have been reduced in California counties. While San Diego remains in the moderate risk category, other Southern California counties have seen their risk decrease — notably in areas where we were offering support. (NBC 7)
Sunrise + Sunset
Rise: 6:51 a.m.
Set: 5:01 p.m.
Tide
Low: 11:04 a.m. + 9:50 p.m.
High: 4:00 a.m. + 4:41 p.m.
Edu
UC San Diego has extended its mandatory remote instruction period until the end of the month. In-person learning is slated to begin on Mon., Jan. 31. — a two-week extension to the previous date of Mon., Jan. 17. The university continues to enforce COVID-19 safety measures and offers food + housing to students who paid for these services. 💻
Traffic
Friday's traffic delay on Route 94 had an unlikely cause — a sea lion. Good Samaritans guided the adventurous animal to safety until SeaWorld staff arrived to rescue him + document the recovery. The team is unsure how he wandered miles inland, but he sustained no injuries beyond a minor scratch. 🦭 (ABC 10)
Eat
Thinking of going out to eat? You may want to double check first. Many restaurants in the San Diego area have temporarily closed or reduced their hours in response to staffing shortages. Large numbers of employees have called in sick due to COVID-19 or the flu.🍽️ (NBC 7)
Cause
Curebound, a La Jolla-based nonprofit, made a $476,450 donation to UC San Diego + La Jolla Institute for Immunology. The donation will support clinical trials in immunotherapy research and enhance the body of knowledge in the immuno-oncology field. 🧪 (San Diego Union Tribune)
Job
Love brand storytelling? Want to create paid content that's actually worth reading? 6AM City is now hiring a West Coast-based Branded Content Editor. This remote role will generate creative campaign strategies and write content for clients across all soon-to-be 24 markets. See details + apply.
*This paid content, brought to you by our advertising partners, helps make this newsletter free.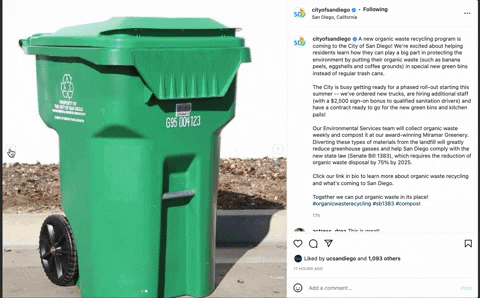 Starting to see these green bins around town? They're being used to collect organic waste as part of SB 1383, a bill requiring residents to compost items like food scraps, lawn clippings + paper products to reduce climate pollutants. Improper disposal of these materials can create methane, one of the most harmful greenhouse gases.

Currently, single-family homes are slated to receive their green bins by Summer 2022 — businesses such as restaurants and grocers have begun receiving education + composting materials.
#DYK that your photos and quotes could be featured in our newsletter?
Just use #SDtoday on social media.
Points Balance
zero? That can't be right 
EARN FREE GEAR
Keep earning and learn other ways to earn points here. Then redeem them for exclusive San Diego swag at The 6AM Shop.
Share now with your friends, family, and all San Diego lovers! Just click the buttons below:
Here is the unique referral link for you:  ⤵️
Copy, paste, share + save this in a safe spot…or check here each morning anytime you need it.
Happy Monday, San Diego. I was inspired to learn more about Victorian homes because I developed an appreciation by walking around the city. I've also come to appreciate the xeriscape yards I see — these are yards that embrace San Diego's natural climate rather than force plants that require a lot of water. They're low maintenance, authentically San Diego, and I love the cacti + succulents. 
Missed yesterday's newsletter? Find a new way to get fit.
Did a friend forward this free newletter to you?